Workshare
Compare
Document Comparison Software for Legal Teams
Change Matters
Compare and secure every file, everywhere with Workshare Professional 10. From the desktop, in the cloud or on any platform, with Workshare you get a market-leading solution integrated into your working environment. Make Workshare Professional 10 part of your ecosystem.
Explainer Video
When you need to see the difference between two documents, use Workshare Compare. There's nothing faster or more straightforward when it comes to seeing exactly what's changed in a file.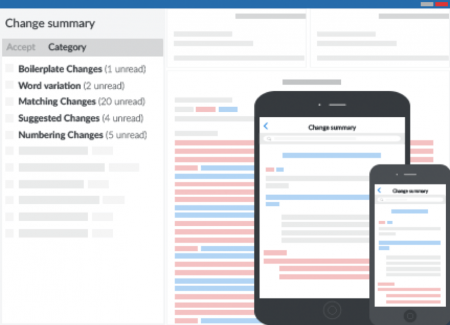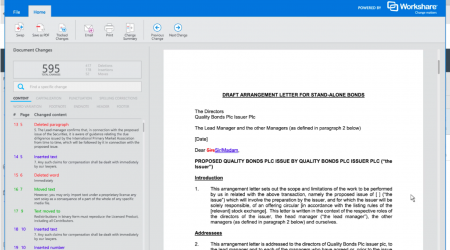 See The Difference
Multiple drafts of a document can be produced in iterations, without ever losing track of the latest version. And, however long or complex the content, it's easy to navigate between any changes that have been made.
Understand every change according to its materiality, from wherever you happen to be working.
It's possible to launch a comparison from the desktop, from Outlook or from your document management system (DMS) with Workshare embedded.

    Don't worry about wasting time or embarrassing mistakes, because no changes or comments (no matter how small) will occur when using Workshare Compare.


    The red line is 100% accurate and simple to navigate, so users can view documents quickly and efficiently.


    From a single application, you can group changes by category, select color themes for a particular topic, and also compare only a portion of the document.
Compare for MS Word
There are a variety of reasons why you might need to compare two Word documents. Lawyers and legal professionals regularly share such documents as contracts with opposing counsel and since the documents may be binding on either side's clients, comparing documents to spot differences is an essential and frequent task. If the lawyer does not spot a change made by opposing counsel, as a consequence this may negatively affect the lawyer's client and lawyer could be liable for the damages.
Word document comparison tools allow you to compare two Microsoft Word document versions and quickly identify the differences between them. Workshare Compare is the most accurate desktop Word document comparison tool on the market that allows you to navigate between the changes in your redline document. Integration with Outlook also allows attachments to be compared. You can compare Microsoft Word documents (DOC/DOCX files), RTF files and PDF files. Workshare also provides Word document comparison optimized for online and mobile devices so you can compare from anywhere!
Once Workshare Compare completes the comparison, the results are clearly displayed in a comparison (Redline) document. There are several options for how this document is displayed. For example, you may choose to show deleted text in red with a strikethrough. Moving between changes in the Redline document scrolls to the change and highlights it in both the Redline document and the original document.
Compare for MS PPT
Workshare Compare for PowerPoint® is a presentation comparison tool designed to make the process of editing and revising presentations as fast and efficient as possible. Workshare Compare for PowerPoint enables you to compare Microsoft PowerPoint presentations and immediately see any differences between them. In one view, you can see both the original and modified presentations with the differences clearly marked as well as a written summary of the changes and color-coded thumbnails of the slides showing which slides were modified, deleted, and inserted.
With Workshare Compare, you have market-leading DeltaView technology available in a click, giving you fast and accurate comparison. Choose any two PowerPoints and generate the comparison. It clearly displays all changes (from slide order and content) so you can be confident you're not missing any small changes that might make a big difference.

    Spot differences instantly: With the click of a button, you can see exactly which slides have been altered in your PowerPoint.


    Summary of all changes: Every positional, text, color and image move or change is captured and displayed for you.


    Accurate reviews: Whether you're trying create the final version of a presentation or you've been asked to review and contribute to one, complete your review quickly and accurately.
Compare for MS Excel
When you compare two Excel files as part of a structured review, every change matters. Complete the process quickly and accurately, ensuring not the least little change is missed.
No matter how long or complex the Excel file, you can navigate effortlessly between individual changes or focus on changes grouped by importance – from understanding that a change was made as a result of a change elsewhere in the Excel file to a complex alteration made in a cell that makes a material difference.
The most powerful enhancement of the technology is the ability to review changes by category, so results are easy to read. The content of an Excel workbook can be vast and interconnected with formula and linked cells. Workshare Compare has been cleverly designed to display changes accurately, no matter how complex the file or how small the change.
Comparisons are filtered by:


    "Type" – including content, formula and formatting changes.


    "Direct" and "Indirect changes" – any alterations to a cell, row or column that a user makes themselves is a Direct Change. Any change derived from modifications to other cells is called an Indirect Change – for example, when inserting a new row or column, formulas in other cells may update the range they are calculating; the user didn't modify the formula them self.


    Filtering changes – by default, every type of change is highlighted in the comparison. Users can switch off highlights for different types of changes to focus on what's most relevant to them.
Compare for PDF
Professionals in the Creative industry also regularly work with multiple versions of single documents for campaigns or press releases, so often have to compare PDF files of content to keep track of changes. They need to be able to see what changes have been made during editing and versioning of the documents to ensure they are integrated into latest versions.
PDF document comparison tools allow you to compare two PDF document versions and quickly identify the differences between them. Workshare provides PDF document comparison tools that enable you to accurately and seamlessly compare even the most difficult and complex PDFs. Integration with Outlook also allows you to compare PDF attachments. Workshare Compare is our desktop PDF document comparison tool that produces a comparison (Redline) document that displays all changes identified and enables you to navigate between the changes. Workshare Connect provides comparison for text-based PDFs on the web and on mobile devices so you can compare on the go!
Workshare preserves the technical integrity and style of the document – preventing your document from becoming corrupt or inadvertently incorporating foreign formatting or style. This not only benefits you through higher document quality, but also through increased productivity as well as reducing stress at deadlines.
Integration with iManage Work
Workshare Compare Everywhere can be embedded in iManage so you can perform DeltaView comparison in iManage Work 10.
There's no need to waste time opening a separate application. Simply select your documents in Work 10 and compare them to show an accurate redline in seconds. The best part is, you never need to leave the iManage environment.

    Be fast: Find changes quickly and act on them fast. Improve turnaround times on your high stakes documents and clients will love you.


    Be accurate: Remove the risk of missing changes to documents, and never leave sensitive content in the files you share.


    Satisfy colleagues and deliver to clients: Send, sync and share large, confidential files in an intuitive, secure workspace that's anchored in iManage and can be accessed anywhere.


    Move with confidence: Workshare extends security coverage on documents to ensure your firm can exert control over content and audit who is accessing and amending files.
Key Features
1
Automatic change notifications in Outlook
When a file comes back with changes, 1 click finds the original and runs your comparison.
2
Category view – sort by materiality
Group changes by type to focus on what matters most and make reviewing changes much faster.
3
Complex tables? No problem.
Changes in Word or PDF tables are accurate and easy to understand, saving you time and frustration.
4
Lightning-fast redlines
Up to 66 times faster comparison results (compared to our previous versions and to the rest of the market).
New to Workshare Compare
1
Compare Everywhere comes embedded
in Outlook, iManage, NetDocuments, HighQ, Google G Suite – ready to go when you are.
2
Compare Server
gives developers and vendors the tools to embed Workshare Compare in their platforms to create unique user experiences.
3
Compare for Excel
because spreadsheets matter too!
4
Side by side PDF comparison
makes reviewing PDFs much, much easier.
5
Selective comparison
for the times you only want to compare sections of a document, rather than the whole thing.
Workshare is dedicated to helping professionals compare, protect and share their high stakes documents. First established in 1999 with the advent of DeltaView, Workshare continues its heritage of developing and releasing intelligent technology focused on the comparison, protection and sharing of high stakes documents.