MATTERLINQ Shined in China Corporate Counsel Festival
Things You'd Like To Know
MATTERLINQ Shined in China Corporate Counsel Festival
MATTERLINQ has greatly debuted in 2019 China Corporate Counsel Festival with the agenda of "The Evolution of Legal Management from the e-Billing Perspective".
Beijing, China, June 15, 2019
STG is honored to be a co-host in 2019 China Corporate Counsel Festival. Tori Lin, Marketing Manager of STG, has brought the agenda of "The Evolution of Legal Management from The e-Billing Perspective", and shared how to achieve the best evolution of legal management with enforcing enterprises' billing guidelines.
First of all, Tori pointed out the data integration and legal technology have effectively helped global enterprises to better understand the value and advantages of the law firms and other professional firms they've worked with over the past five years. According to the data, enterprises can accurately select stable partners, eliminate the inefficient and unworthy cooperation relationship, and finally achieve the effects of controlling costs, improving efficiency, and stabilizing development. In particular, enforcing the "Billing Guidelines" is the most widely implemented by the global enterprises.
Next, Tori used the story of Snow White and the Seven Dwarfs to metaphor the conditions when enterprises collaborate with multiple law firms or other professional firms. When the enterprises cannot centrally manage different types of information, such as matters, budgets, fee rates, timesheets, documents, and communication messages, leading to the inability to organize the data quickly and put the enterprises at risk.
MATTERLINQ's comprehensive and convenient features, combining different types of information, enable corporate legal professionals to manage and collaborate with multiple law firms and other professional firms in a single platform. With its powerful big data engine to analyze, it comes out the best reference to assist the enterprise to make the best decision in a short time, achieving the effect of intelligent insight, and becomes the magic mirror in the real life of the enterprise.
In terms of

security compliance

, MATTERLINQ protects all data with full encrypted data transmission and storage without worrying about information leakage. Complete audit trail, each record and information is stored in MATTERLINQ, helping enterprises track and understand user behavior and reduce risk. Comprehensive and rigorous privilege configuration, customized multi-level privilege configuration based on roles and objects to meet the complex logic requirements of enterprises. Thus, with MATTERLINQ, enterprises don't have to worry about eating poisonous apples that are not compliant.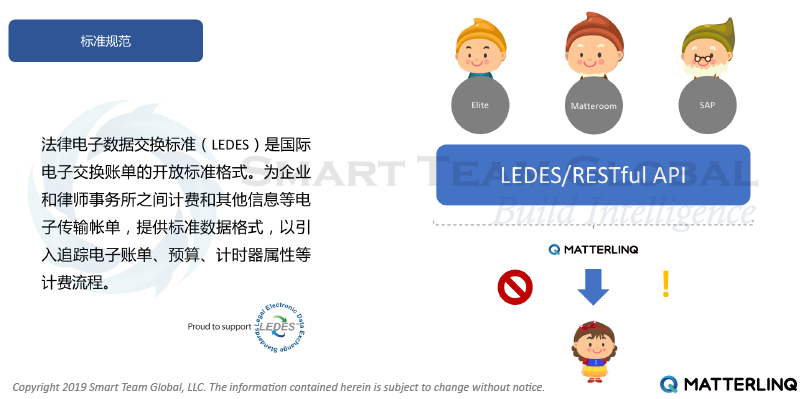 MATTERLINQ assists companies to meet the

standard rules

. Not only does MATTERLINQ comply with the international LEADS billing format, which is a standard format for electronic transmission of billing and other information between enterprises and law firms, but also support automatic verification of the configuration of corporate billing rules, automatically reject or warn billings that do not comply with corporate rules. This feature helps enterprises to save time and manpower, reduce the cost of billing expenses overall, and effectively enforce the implementation of billing rules, thereby greatly improving efficiency.
MATTERLINQ combines the above four features of

comprehensive convenience

,

intelligent insight

,

safety compliance

, and standard rules

to

help enterprises effectively reduce risks, save costs, and improve efficiency to achieve the best evolution.
MATTERLINQ provides the power to make budgets, audit invoices for variable needs, mechanically route the invoice to the authorized reviewers, and supply elaborated reports. MATTERLINQ also embraces Practice Management capabilities, includes Matter Management, Professional Firms Management, KPI Dashboard and more. It is even easier for corporations and law firms to organize and manage complete matter and monetary data systematically in one place.
June 19th, 2019

By: STG Marketing