Compare document mentality? Workshare gives you a lightning-like red line
Things You'd Like To Know
「Comparative documentation」is a very important process in the lawyer's workflow. However, we have observed that lawyers spend considerable time and effort on document tracking or reviewing records:
A lengthy list of tools in the workflow

IT staff is difficult to maintain

Need to be on the mobile side anytime, anywhere
But do you know that using Workshare can simply compare different documents? Please click to watch the video.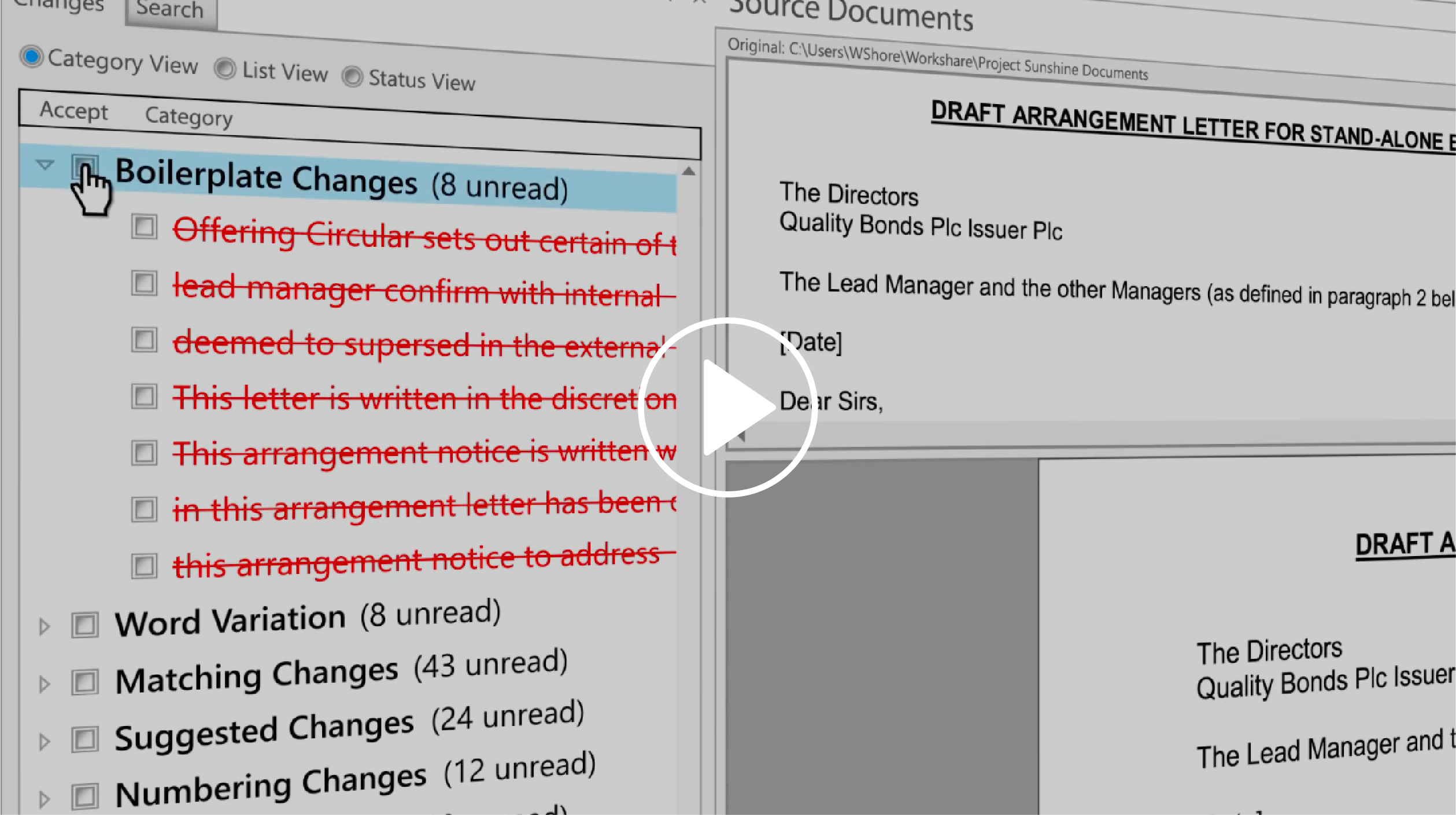 See all the differences quickly and accurately
Workshare Compare can be used to iteratively generate multiple drafts of documents without losing the latest version of the trace. And, no matter how long or complex the content is, it's easy to navigate between any changes you make.

Understand each change based on its substance, no matter where you are.

It can be compared to embedded Workshare from the desktop, Outlook or Document Management System (DMS).
Make users not miss any changes
Don't worry about wasting time or embarrassing mistakes, because no changes or comments (no matter how small) will occur when using Workshare Compare.
The red line is 100% accurate and simple to navigate, so users can view documents quickly and efficiently.

From a single application, you can group changes by category, select color themes for a particular topic, and also compare only a portion of the document.
Automatic Change Notification in Outlook: When a file returns, changes occur, one click to find the original file and run the comparison.
Category View - Sort by Materiality: Group changes by type to focus on the most important parts and review changes more quickly.
Complex form? No problem: Changes in Word or PDF tables are accurate and easy to understand, saving you time and frustration.
Lightning red line: 66 times faster than our previous versions and other products in the market.
More ubiquitous embedded in Outlook, iManage, NetDocuments, HighQ, Google G Suite: ready to go.
Comparison Server: Provides developers and vendors with the tools to embed Workshare Compare in their platform to create a unique user experience.
Compare Excel: Because spreadsheets are also important!
Side by Side PDF: Workshare Compare makes it much easier to review PDF files.
Selective comparison: Compare the parts that you want to compare, not the entire document.
Workshare has developed the 「comparison」feature that is best suited for modern lawyers. Workshare uses today's fastest engine and compares its technology to all products on the market, ensuring that WorkShare's technology is the fastest and most open. Most importantly, Workshare also released a series of enhancement engines. In other words, Workshare can not only compare documents, but even compare more complex scenarios.
1.5 times faster than the leading competitors

Metadata cleanup is 66 times faster than the competition

Improved OCR engine for better PDF comparison
Redesigned how table structure changes are displayed (ie when cells are split and merged)

Easier to understand the differences between documents
A further step in Workshare is to ensure that its technology is accessible to other applications that people use every day, helping users understand and communicate more quickly and accurately during the review process.
Workshare is the leading provider of enterprise file security sharing and collaboration applications. Workshare enables individual users to easily create, share, and manage high-value content from any device, anywhere. Workshare improves the efficiency of the collaboration process and helps content owners accurately track and compare revisions made by participants. Workshare also reduces the business risk of inadvertent sharing of confidential or sensitive files. More than 2 million professionals in 70 countries around the world use award-winning Workshare software on desktops, mobile devices, tablets and online. For more information, please visit: http://www.smartteam.com.cn/workshare/
April 29th, 2018

By: STG Marketing